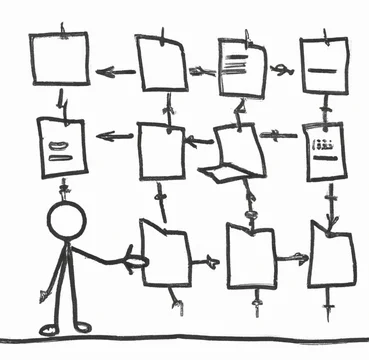 Chief Judge Connolly held another hearing today regarding compliance with his standing orders on litigation funding, this time exploring the relationship between NPE plaintiff Backertop Licensing LLC and MAVEXAR, the entity that is said to have created Backertop.
Last week's hearing involved testimony from a sales person and a restaurateur who owns a food truck, each of whom had been recruited by MAVEXAR to be the sole member of a patent assertion NPE, as an "investment" opportunity or a way to make "passive income."
Each "owner" received either 5% or 10% of the profits, while MAVEXAR essentially controlled the retention of attorneys, the selection of targets, the pleadings, the litigation strategy, and the settlements.
The witness Chief Judge Connolly examined in today's hearing described a similar relationship—but with a twist.
This Time, The LLC's Sole Member Was a Paralegal—Who Is Married to an Attorney at MAVEXAR
In today's hearing, Chief Judge Connolly called the sole member Backertop LLC to the witness stand and examined her on how she came to be in charge of the LLC, what her LLC had paid for the patents, how her LLC's attorneys were retained, her interactions with MAVEXAR, and other topics.
This witness, it turns out, is a paralegal at a law firm in Texas, whose husband is an attorney who works for MAVEXAR. Her testimony wasn't entirely clear, but it sounded like she initially came in contact with MAVEXAR through her husband. Her story otherwise mostly mirrored those of the sales person and restaurateur last week.
According to her, MAVEXAR handled everything. They coordinated formation of the patent assertion LLC, chose its name, drafted the relevant patent transfer agreements, selected the targets, performed the legal analyses, hired the attorneys, and paid for everything. The witness just signed off on things like complaints and settlements, and had never declined to approve anything.
The witness said she had not communicated directly with her LLC's attorneys at all before they filed the complaint. Instead, she had met them for the first time about a month and a half ago, which looks like it was almost four months after they filed the suit and, according to the docket, around the time that the hearing was set and that they filed a notice of voluntary dismissal.
MAVEXAR coordinated her attendance at the hearing today, paid for her flight, and—as discussed below—apparently helped prep her for the hearing. MAVEXAR seemed to be paying other expenses as well, but it wasn't clear whether it was paying these directly or through a reduction of the license proceeds.
In exchange for owning the patent and adopting the liabilities that go with the suit, the sole member said that the LLC receives just 5% of the proceeds, and the remaining 95% goes to MAVEXAR.
No Common Interest Privilege
The Court questioned the witness about what she had discussed with certain individuals from MAVEXAR regarding this hearing. This prompted an objection from Backertop's counsel, who asserted the common interest doctrine. He argued that there is a "community of interest" agreement between Backertop and Mavexar, that attorneys were involved in the conversations, and that the information should remain confidential.
The judge disagreed, and ordered the witness to describe what the MAVEXAR personnel said on the call. He pointed out that lawyers have recognized that in prior hearings that MAVEXAR is a non-lawyer entity. One of the agreements between Backertop and MAVEXAR also makes clear that MAVEXAR is not performing legal services for Backertop.
That Corporate Veil Is Looking Awfully Thin
Interestingly, a number of the questions the Court asked of the witness appeared squarely directed at piercing the corporate veil. The Court asked what her understanding was of her risk of personal liability. It then asked about intermixing of assets, whether Backertop has any employees, what kind of capitalization it had at the time it brought suit, and more.
The witness's answers sounded like they would slot right into a traditional veil piercing analysis. She testified that Backertop had no money at the time that it brought suit; that it has no employees or offices, other than a PO box; that it has no bank account. Perhaps worst of all, she testified that whatever money Backertop has now was received through "direct deposit" from Mavexar, and intermixed with the sole members' personal funds in her personal bank account.
Why the Veil Piercing Inquiry?
It's not obvious, at least to me, why the Court is asking veil-piercing style questions in these cases at this time. Backertop filed notices of voluntary dismissal in the cases back in September. There is no pending motion for fees, and I imagine the deadline has run. I don't see anything on the docket that indicates that any party has moved for relief from Backertop.
So, is the Court planning to address the witness's potential personal liability at some point? I'm not sure. I suppose it could become relevant down the line if the Court imposes sanctions for violation of its standing orders. I expect this will become clearer as the cases move forward.
Some Additional Thoughts
Like last time, a number of other interesting things happened at this hearing, and the transcript will definitely be worth reading once it's public. I wanted to close with a few one-off thoughts and questions:
The witness testified that MAVEXAR explicitly stated in an agreement with Backertop that it only provides non-legal services. I suppose that avoids any duty to the LLC that would otherwise be imposed, but I wonder if there were other reasons.
If there is no privilege between MAVEXAR and Backertop and the common interest doctrine does not apply, aren't MAVEXAR's analyses, research, drafts, claim charts, and internal communications related to this patent discoverable, assuming a defendant could find out enough to issue a subpoena? I wonder if they are preserving that evidence.
The witness's husband works at MAVEXAR. I may have misunderstood, but it sounds like the husband is an attorney employed by MAVEXAR. It also sounds like he was involved in the formation of the NPE LLC with his wife as the sole member; she said she went over the initial agreement with him before signing it. If I understood that correctly, he may have both worked for the company who drafted the agreement while simultaneously advising his otherwise unrepresented wife as to whether to sign it. That sounds like an ethical and conflicts minefield.
If the purpose of the NPE LLC is to shield MAVEXAR from potential liability, isn't it odd to have the sole member of the LLC be a MAVEXAR employee's wife? If she is ultimately subject to veil piercing, that would seem to potentially put any joint assets with her husband at risk as well. Perhaps they were motivated by other concerns.
If you enjoyed this post, consider subscribing to receive free e-mail updates about new posts.