FRCP 30 was amended in December 2020 to add a meet-and-confer requirement: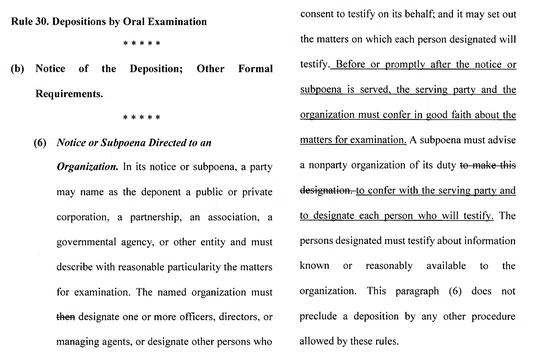 The amendment also suggests (by removing "then") that a party may designate its 30(b)(6) witness as part of the parties' discussions before the notice goes out.
No revised PDF of the rules is available yet, but Cornell's very-frequently-relied-upon page has already been updated.
No Change to Objection Procedures
One issue that commonly arises here in Delaware is that the parties serve an FRCP 30(b)(6) notice but do not receive objections until immediately before the deposition, leaving no time to resolve the issues.
Why is that? Because there is no deadline in the FRCP or the D. Del. local rules for objections to a 30(b)(6) notice. In fact, there is no provision for objections at all, although in practice such objections are commonly made.
These objections can be important in shaping the scope of the deposition. In the District of Delaware, for example, there is a well-established bar on contention topics in 30(b)(6) depositions, with support stretching all the way back to the 1980's:
It has been the consistent position of this Court that a lay person shouldn't be required to formulate a party's contention in response to deposition questioning . . . .
See Tiegel Manu Co. v. Globe-Union, Inc., C.A. No. 84-483, at 14:2-12 (D. Del. Oct. 5, 1984) (Stapleton, J.) (transcript). Even with clear precedent on the issue, it comes up with fair frequency, and it would make sense to have objections due at a time when the parties can act on them.
This could be an opportunity for an update to the District of Delaware local rules, although it might be tricky to come up with a workable schedule. Under Local Rule 30.1, a deposition notice—including a 30(b)(6) notice—may be served just 10 days before the noticed date. That doesn't leave a ton of time for service of objections and for the parties to meet-and-confer on those objections.
That's a Lot of Discussion
The Advisory Committee actually considered a specific provision for objections as one of six possible revisions to the rule, but rejected it in favor of the meet-and-confer requirement regarding the "number and description of" matters for examination—i.e., the 30(b)(6) topics.
But even that language was ultimately withdrawn (along with other proposed amendments, such as a requirement to confer on the identity of the witness) after the committee received nearly 1,800 written comments and took testimony from 80 witnesses at two public hearings, as they describe in the document below. It sounds like it's harder than you'd think to find agreement on this.
If you enjoyed this post, consider subscribing to receive free daily or weekly e-mails about any new posts.